Learning analytics
Learning Analytics (LA) is a research field that concerns with the acquisition of data from learners as well as the relevant analysis and feedback for the improvement of education and learning. At the Learning Analytics Center of Kyushu University, we have been engaged in the research of learning analytics for supporting educators and learners in university environments. We also developed visualization tools and learning support tools based on our research results.
Development of a system that predicts "stumbling blocks of learning" based on physiological measurement
When learners feel something is difficult, they may have encountered "stumbling blocks of learning." Predicitng "stumbling blocks of learning" may allow for appropriate learning support as well as improvement of teaching materials.
The Brain and Cognitive Science subgroup is conducting experiments for the purpose of capturing "stumbling blocks of learning" by simultaneous measurement of brain waves and eye movements during learning.
Firstly, we conduct eye movement measurement by monitoring which part of the screen people look at. Eye-movement data is mainly used to estimate stumbling blocks in learning materials during relevant learning activities. The eye tracker we use is Tobii Pro Spectrum (Tobii AB).
Secondly, we conduct EEG measurement by monitoring temporal dynamics of mental states (e.g., concentration and arousal). EEG data is mainly used to estimate the timing at which mental states change in relation to stumbling blocks of learning. The EEG sensor we use is Quick-20 (Cognionics), whose wireless dry electrodes require less burden on participants when they wear it.
There are many kinds of devices and tools for measuring EEG and eye movements. The ones our research group uses can capture data accurately enough for academic research while minimizing the burden and restraint during experiments. The researcher in charge of the physiological measurement and analysis has relevant expertise, and conducts research in cooperation with educational engineering researchers.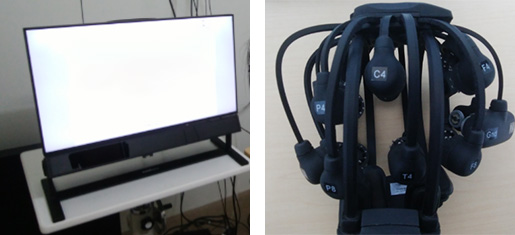 LA environments for older adults: user interface (UI) development
Conventional learning support systems often target young learners, and many of them could not be applied directly to older learners. Older adults may be less skillful in exploiting ICT tools for learning than young people. Also, it can be relatively costly for older adults to learn the uses of learning support systems and their UIs. User interfaces for the support of older learners should be designed to minimize the burden on users as well as the feelings of anxiety and resistance. We have conducted user studies involving interviews and focus groups, and extracted the representations and operations in existing learning support systems, which can cause the feelings of anxiety and resistance among older adults. In this process, we identified the need to avoid frequent switching of screens as well as screens and operations having many layers in designing UIs for older adults.
Based on the above considerations, we have proposed a "dual-tablet UI," which uses one of the two tablets as the main screen for viewing learning materials. The other tablet is used as the sub-screen for showing preview icons of learning materials, displaying annotations, and editing texts. In this way, we can reduce problems during the older adults' interactions with learning materials. Users can use styluses to create highlights and annotations in intuitive manners. Moreover, we paid attention to the location, size, and color of buttons and other UI elements as well as the relationships of elements on the connected tablets so as to minimize the burden on the older adults whose vision and memory capabilities may be declining.
As a first step, we have developed prototypes that operate in versatile and expandable cross-platform environments. The prototypes are being used to conduct formative evaluation and agile iterative improvement of the user interface based on the relevant feedback from older adults.
Working with local communities
We collaborate with Itoshima City in Fukuoka Prefecture, Japan in the context of this project. This collaboration allowed us to conduct interviews with local people who are involved in activities relevant to learning, social participation and employment of senior citizens. It also allowed us to organize seminars, focus groups, and questionnaires by directly engaging with local senior citizens. Based on a user-centered approach, we promoted the design, development, evaluation and improvement of learning support technologies, which should fit older learners. In addition, while considering the possibilities of empowerment through the provision of analytics-based learning as well as novel forms of co-creation, we have considered not only individual technologies but also the holistic usage environment to inform the design.